NOLSW supports Wisconsin workers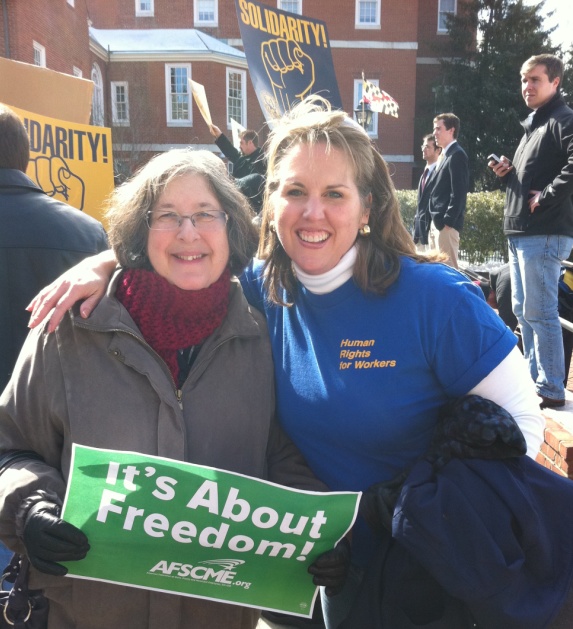 Workers and the labor movement are under attack! Workers, students, community members and elected officials have taken to the streets to protest budget cuts in their states and cities. The proposed budget cuts will cause undue suffering to the lives of millions of low and middle income people while maintaining tax cuts for corporations and persons at the top income levels. The attacks go even further than budget cuts; states want to take away people's right to form unions and collectively bargain for their wages and benefits.

In Wisconsin, tens of thousands of workers and their supporters are standing up to Wisconsin Governor Scott Walker and politicians that are using workers as scapegoats for the states' economic problems.

While Governor Walker gave 140 million of tax-payer money in tax cuts for corporations, he is trying to close a 136 million dollar budget deficit by going after workers' pockets. To help the state economy, nurses, teachers and other public sector workers who provide vital services to our communities have agreed to pay more for their benefits but money is not the only thing that Gov. Walker, he wants to take Wisconsin back decades by destroying workers' right to bargain collectively in the workplace for better wages, working conditions and benefits that improve our lives.

In order to stall Walker's bill, Democratic state senators have walked out of the chamber. Without them, the Senate can't vote. They have removed themselvest to neighboring states, in an act of courage and conviction.

The Legal Services Staff Association (New York) contributed $2500 to AFSCME Local 171 in Wisconsin, the union at the heart of the struggle. NOLSW/UAW Local 2320 members all over the country have joined in these solidarity actions and planning to join others as they are organized.
You can help by showing your support for the Wisonsin workers by doing the following:
.