Legislative
URGENT CALL TO ACTION ON LSC FUNDING
***URGENT CALL TO ACTION ON LSC FUNDING*** Please take a few minutes today (June 9, 2015)  to call your Senators and urge them to reach out to Chairman Shelby and Ranking Minority member Mikulski and urge them to increase LSC funding in the Senate's Appropriations Subcommittee for Commerce, Justice, Science and Related Agencies.
Download:


LSC Fact Sheet FY16 Senate.pdf
NOLSW members lobbying for LSC funding in DC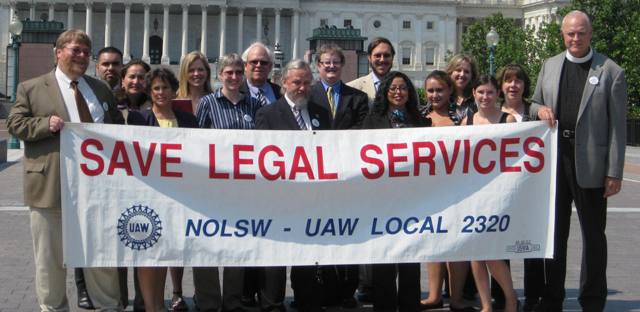 NOLSW President Gordon Deane (left) and Financial-Secretary/Treasurer Tim Yeager (right) lead members as they lobby senators and congresspersons for funding for the Legal Services Corporation (LSC).
Tell Congress to do the right thing: Raise the debt ceiling!
Call your representative and  senators now! If we don't raise the debt ceiling by Aug. 2, for the first time in our history, the United States will default on its debts and will be unable to pay our bills. Congress has raised the debt ceiling scores of time, including 10 times over the last decade, under both Democratic and Republican leadership.

NO CUTS TO SOCIAL SECURITY!
BREAKING: Reports say the president just offered to cut Social Security benefits, if Republicans agree not to let the U.S. default on its debts.1 It's his offering to the out-of-control Republicans, who are threatening to crash the economy in order to ram through savage cuts to crucial government programs.

Vote for the America you want!
  Our country is at a crossroads, and the budget choices Congress makes this summer will shape the rest of our lives. Do we want a nation and a society that Cuts taxes for the wealthiest families and corporations? Bails out Wall Street and lets Main Street suffer? Sharply reduces Medicaid, Medicare, and social programs? Continues high levels of war spending.

Page Last Updated: Jan 06, 2016 (12:49:00)