It's Time for Peace and Jobs
Posted On: Jan 17, 2013 - Updated On: Jan 02, 2014
By midnight, March 1st, Congress must act to reduce the federal deficit by $1.2 trillion (over ten years), in order to avoid across-the-board cuts. Though progressives hope to increase taxes on corporations and wealthy individuals, Congressional Republicans will insist on spending cuts as well. Ultimately, this will require making a choice between cutting programs that 99% of us use and cutting unnecessary Pentagon spending.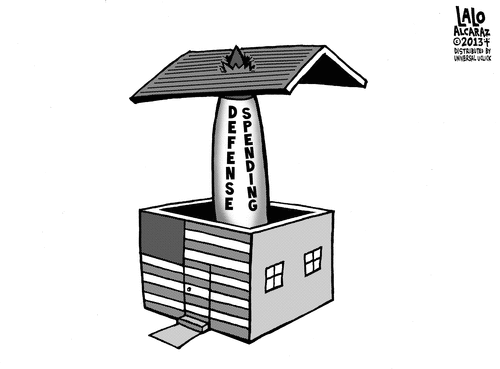 Fiscal responsibility does not stop at the Pentagon's door. Pentagon budgets have grown faster than the budget as a whole. Between 1998 and 2010, the Pentagon budget grew by 92% in real terms—and now accounts for 58% of all discretionary spending. America leads the world in defense spending by a wide margin. Today, the US national defense budget accounts for about 40% of all military spending worldwide—during the Cold War it was 28%.
The next two months will see intense public debate on budget issues. Pentagon spending is on the table. The question now isn't whether military spending will be cut, it's how much. Failing to act responsibly with regard to the Defense budget will mean bigger cuts elsewhere, including cuts to the Legal Services Corporation and programs that benefit our clients.
If we all join the debate, we can change the momentum toward austerity and the taboo on criticizing the Pentagon.
Please sign the Jobs-Not-Wars petition at:
http://salsa.democracyinaction.org/o/302/p/dia/action/public/?action_KEY=11931